Microb-Defend
Restore your microbiome balance with the help of potent essential oils known to help relieve overgrowth of yeast and other microbes.*
Help deter harmful microbes with thyme, clove, and oregano oils in softgel capsules
Protect your system from yeast imbalance with herbs studied for their microbe balancing properties
Ease aches, bloating, diarrhea, and constipation by balancing inflammation and enhancing natural gut flora
Microbiome Balancing Supplement
When your gut microbiome is disturbed, healthy flora – and the intestinal barrier that keeps invaders out – become compromised. While enzymes and probiotics encourage the growth of healthy gut flora, they cannot directly suppress unwanted gut microbes. As a result, your gut remains irritated and complicated by microbial overgrowth, unregulated inflammation, oxidative stress, and impaired nutritional balance.
Essential Oils for Gut Health
Though essential oils have recently gained widespread popularity, certain oils have been used worldwide for centuries due to their extensive medicinal profiles. Long before modern medicine, our ancestors used thyme, clove, and oregano to purify their bodies, heal wounds, and restore balance to the digestive tract. Researchers have investigated the properties of these plant oils and have found that they not only support the removal of bad microbes, but also encourage the health of good bacteria, wound healing, and pain relief.*
The Microb-Defend Advantage
Microb-Defends effectiveness lies in its simplicity: Three herbs in oil, each with centuries of cultural and scientific success in resolving gut problems. This formula enhances your defenses against numerous strains of harmful organisms, while also supporting probiotic harmony. For additional support, Microb-Defend aids in moderating inflammation and soothing digestive complaints. It is also a perfect complement to Candid-X for addressing stubborn cases of yeast overgrowth. †
The Formula: Purpose
Thyme – Contains thymol to support the suppression of numerous harmful bacterial strains while promoting the growth of probiotic strains, in addition to enhancing cholesterol balance and oral defense against inflammation and bacterial damage.
Clove – Contains eugenol to promote defense against harmful gut bacteria, balance intestinal inflammation, and help neutralize oxygen radicals.
Oregano – Rich in carvacrol, which enhances defense against harmful microbes in addition to soothing intestinal symptoms and balancing cholesterol levels.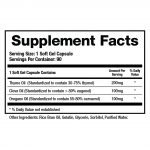 *These statements have not been evaluated by the Food and Drug Administration.
These products are not intended to diagnose, treat, cure, or prevent any disease.