A special thank you to Dr Chi for permission to reproduce his work on our website.
Dr. Tsu-Tsair Chi is a biochemist and Board Certified Naturopathic Physician, and the founder of Chi's Enterprise, Inc. Dr. Chi has worked in the fields of infectious disease, cancer, and artherosclerosis. He also consults worldwide. Dr. Chi developed an innovative diagnosis technique based on the observations and conditions of tens of thousand of cancer patients from the lunulae (half moon markings) of the fingernails and the teeth marks on the tongue to better combat the possibilities of disease in seemingly healthy people. Since Dr. Chi first published this book in 1997, thousands of doctors and patients have learned his method to self diagnose and detect illness early.
Do you have a lump or cyst on your frenulum?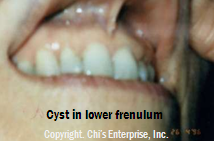 The frenulum is that thin tissue connecting your upper gum to your upper lip. If you do, most likely you have a risk for colon problems like colon polyps and colon cancer, or have a family history of it. In one case, a 50-year-old female from New York, relates that, in 1999, she had 2 large cysts on her frenula. A colonoscopy found 20 colon polyps. All were removed.
In addition to frenula cysts, having these markers and symptoms also point towards a risk for colorectal cancer:
– Black lines on the nails
– Blood in the stool
– Missing lunulae (white half moons on the base of nails) – Most cancer patients have lunulae only on their thumbs, not on the other nails.
A new study found that there is an increasing incidence of colon cancer among adults younger than 50 years old. They predict that, by 2030, 1 in 4 newly diagnosed rectal cancer and 1 in 9 diagnosed colon cancer will be in this age group. Colon cancer starts out as colon polyps, so it is even more vital to detect these early so step can be taken to correct the problem. If you have bowel irregularity and have frenula cysts, you need to start addressing these known risk factors of colon polyps/cancer:
– CONSTIPATION and/or DIARRHEA – Even if there is no blood in the stool, constipation or diarrhea can already signal a colorectal issue, especially if you also have a frenula cyst and have no lunulae.
– EXCESS BILE – When the liver produces more bile than the gallbladder can handle, this can turn into secondary bile salts, which are carcinogens. If you have bitter taste, dry mouth and bloating, these signify excess bile. Even individuals who have had their gallbladder removed still have a high risk of developing colon cancer within 10 years.
– EXCESS ESTROGEN – It is a well-known fact that eating red meat frequently increases colon cancer risk. Part of the reason is that red meat is high in estrogen and this contributes to colon cancer development. Breast cancer patients have an 18% chance of getting colon cancer within 6 months (Ref: Family Practice News. Dec 2003).
In these cases, early detection of colon problems through physical markers has helped these individuals. K. Wirtz, DDS from Arizona, has a female patient who was analyzed and found to have colon cancer risk. Dr. Chi told her to have a colonoscopy immediately. Six months later, she had surgery to remove a portion of her colon and intestines, along with a high grade glandular dysplasia polyp. Surgical biopsy revealed the cancer cells were forming. If she had waited three more months, it would have been worse. She writes: "I want you to know how deeply grateful I am to have listened to your recommendation. I am saved by this advice." R. Rozich, DC from Illinois, reports that he noticed a frenulum cyst on a 9-year-old boy. He asked the mother if he had any problems with colon polyps. The mother was very surprised. She said that he had 3 colon polyps removed already. Understanding this information provided from your body can assist you in understanding your next steps in your health journey. This can lead you to looking at further testing, working with a qualified natural health practitioner to address these challenges and most importantly, turn this around while you are still maintaining a level of health to work through this with ease. As example, wouldn't you rather know that you have a risk factor for colon cancer and address this in a preventive fashion, or wait until you have are diagnosed with cancer before making changes in your life? If you are a following Depke Wellness, I already know your answer, you understand that prevention as the key.
If you have any comments or questions about this article, feel free to post this below and we will address this personally.